Overview
Edit
What is Mine Brothers CO?
Edit
Mine Brother's CO is the shop that sells diamonds
What are diamonds
Edit
Diamond is a rare material in real life (like you didn't know already). Diamonds in War Game is the premium credit used to purchase Gun Permits, Faces, Hats, and Uniforms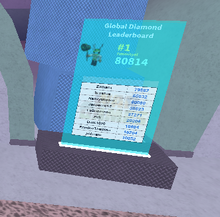 How else can you get diamonds?
Edit
Diamonds can be earned through daily gifts and if you kill enough players IN A ROUND, you start geting a few diamonds for every player you kill.
To the left is the War Games diamond leaderboard which shows the top players who have earned (mostly purchased) the most diamonds in ROBLOX.
Ad blocker interference detected!
Wikia is a free-to-use site that makes money from advertising. We have a modified experience for viewers using ad blockers

Wikia is not accessible if you've made further modifications. Remove the custom ad blocker rule(s) and the page will load as expected.